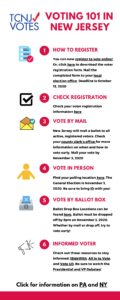 TCNJ Votes! is TCNJ's initiative to increase voter registration and voter turnout in each upcoming election. We want to improve the number of TCNJ students voters by preparing and educating students about how politics and elections impact their lives now and in the future, and providing opportunities for them to get involved.
Here you can find all the resources you need to become informed, register to vote, find your polling place, and participate in political engagement activities at TCNJ.
Upcoming Events
11/10 @ 12:30 PM: The TCNJ Department of Political Science Politics Forum hosts Dr. Dan Bowen (Chair, TCNJ Department of Political Science) as he presents "Making Sense of the 2020 Presidential Election" November 10 at 12:30 pm on Zoom. Register here.
"Why I Vote" Video Series
Check out why TCNJ faculty and staff vote in our "Why I Vote" Video Series!